Mini-Crew Length / TruSoft Socks
*The packaging in the above photo gallery is used for multiple products within the Trusoft line and therefore may not match the length of the sock displayed on this webpage.
Truform mini-crew length socks surround feet with full-cushioned comfort. Five gender-neutral sizes, moisture-wicking yarns, stay fresh treatment, and seamless linked toe closure help protect and comfort sensitive feet - ideal for diabetic patients or anyone with sensitive feet.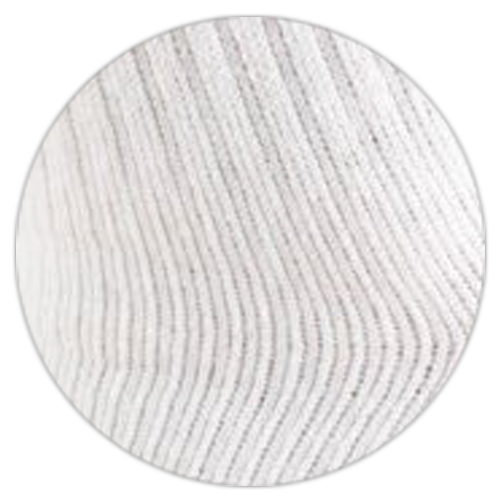 TruSoft is knit using an acrylic multi-fiber blend to offer protection. The wicking ability of acrylic fibers helps keep feet comfortable and dry. The application of the Aegis treatment helps inhibit the growth of bacteria to help prevent odor.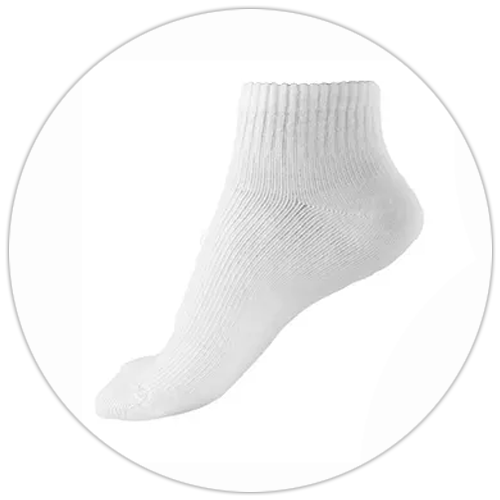 Extra padding in the toe, foot and heel surround the feet with cushioned comfort for full foot protection.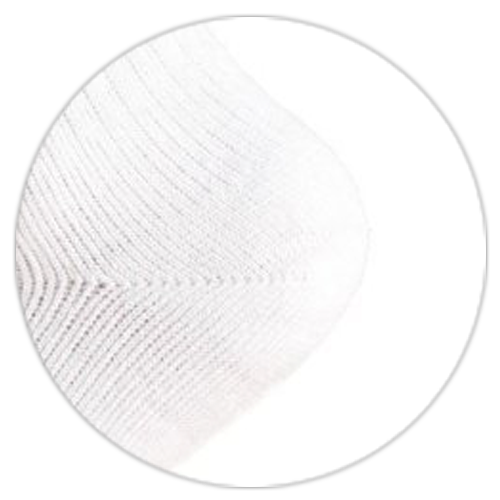 Knit-in, defined, reinforced heel pocket provides added durability and easy stocking orientation on the foot and leg for a proper, comfortable fit.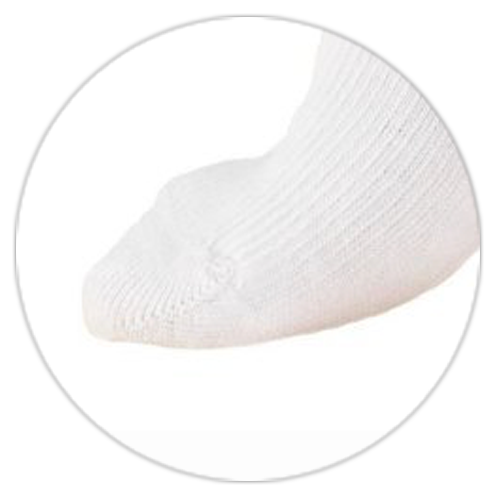 TruSoft offers a seamless, linked toe closure which reduces pressure and irritation to the toes.
Individuals with diabetes are more likely to have foot problems because diabetes can damage nerves and lessen the flow of blood to the feet. The American Diabetes Association estimates that 1 in 5 people with diabetes will seek hospital care due to poor circulation and loss of feeling in the feet.Proper foot care is particularly crucial for individuals with diabetes, as poor care may lead to much more serious medical procedures, including surgery. Checking regularly with your doctor will promote healthy feet, helping to prevent most serious problems related to diabetes.
PROTECT YOUR FEET WITH TRUSOFT SOCKS
Proper foot care begins with selecting the right pair of socks. TruSoft socks are designed with the special needs of individuals with diabetes in mind, or anyone experiencing foot problems due to sensitivity in the feet. TruSoft combines the attributes of an everyday sock with the construction and performance materials to comfort and protect sensitive feet. With TruSoft, daily comfort and protection is as easy as slipping into your socks, and in every step you take.
TruSoft comfort and protection features include: a "seamless", linked toe closure to reduce pressure and irritation to the toes; extra padding in the toe, foot, and heel to help reduce friction and provide extra comfort and protection; acrylic, multi blend materials help wick moisture away to keep feet dry and more comfortable; antimicrobial treatment helps inhibit the growth of odor-causing microbes to keep socks fresh; non constricting very mild compression helps keep the sock in place, preventing sliding and bunching of the material. Change your socks daily.
WHEN TO TALK TO YOUR DOCTOR
Your doctor should look at your feet during each visit. If you have a foot problem that is slow to go away or gets worse, contact a health care professional immediately.
Call when you notice problems such as:
• Athlete's foot (cracking between the toes)
• Sores or wounds on your feet
• Ingrown toenails
• Increasing numbness or pain
• Calluses
• Redness
• Blackening of skin
• Bunions
• Infection
• Hammer toes (middle joint of toes is permanently bent downward)
Mini-Crew Length TruSoft Socks Size Chart
| SIZE | MEN'S SHOE SIZE | WOMEN'S SHOE SIZE |
| --- | --- | --- |
| X-SMALL | 3.5 - 5 | 4.5 - 6.5 |
| SMALL | 6 - 8 | 7 - 9 |
| MEDIUM | 8.5 - 10 | 9.5 - 11 |
| LARGE | 10.5 - 12 | 11.5 - 13 |
| X-LARGE | 12.5 - 14 | N/A |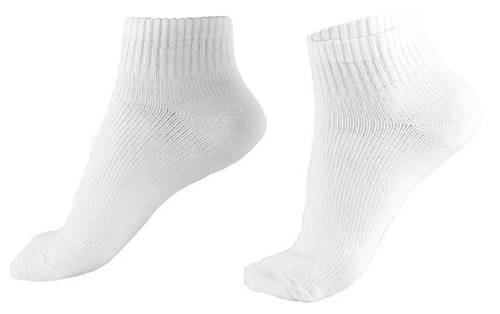 Wash gently with mild soap or detergent in lukewarm or cold water. Do not wring or twist. Rinse until water is clear. Roll in a towel to remove excess moisture. Dry flat away from heat and sunlight.