Truform Travel Series / Unisex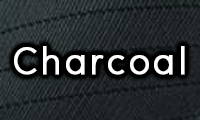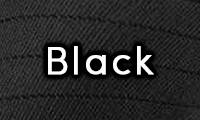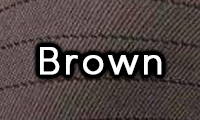 *Colors may not be available in all styles. Please refer to the Dealer Page to review color availability.
TRUFORM® TRAVEL SERIES graduated compression socks are specifically designed for travel. They were developed using a design that helps improve circulation and reduces swelling while in close or cramped quarters for extended periods of time. Tested by pilots and people of all ages traveling worldwide, TRUFORM® is sure to be your ideal travel companion!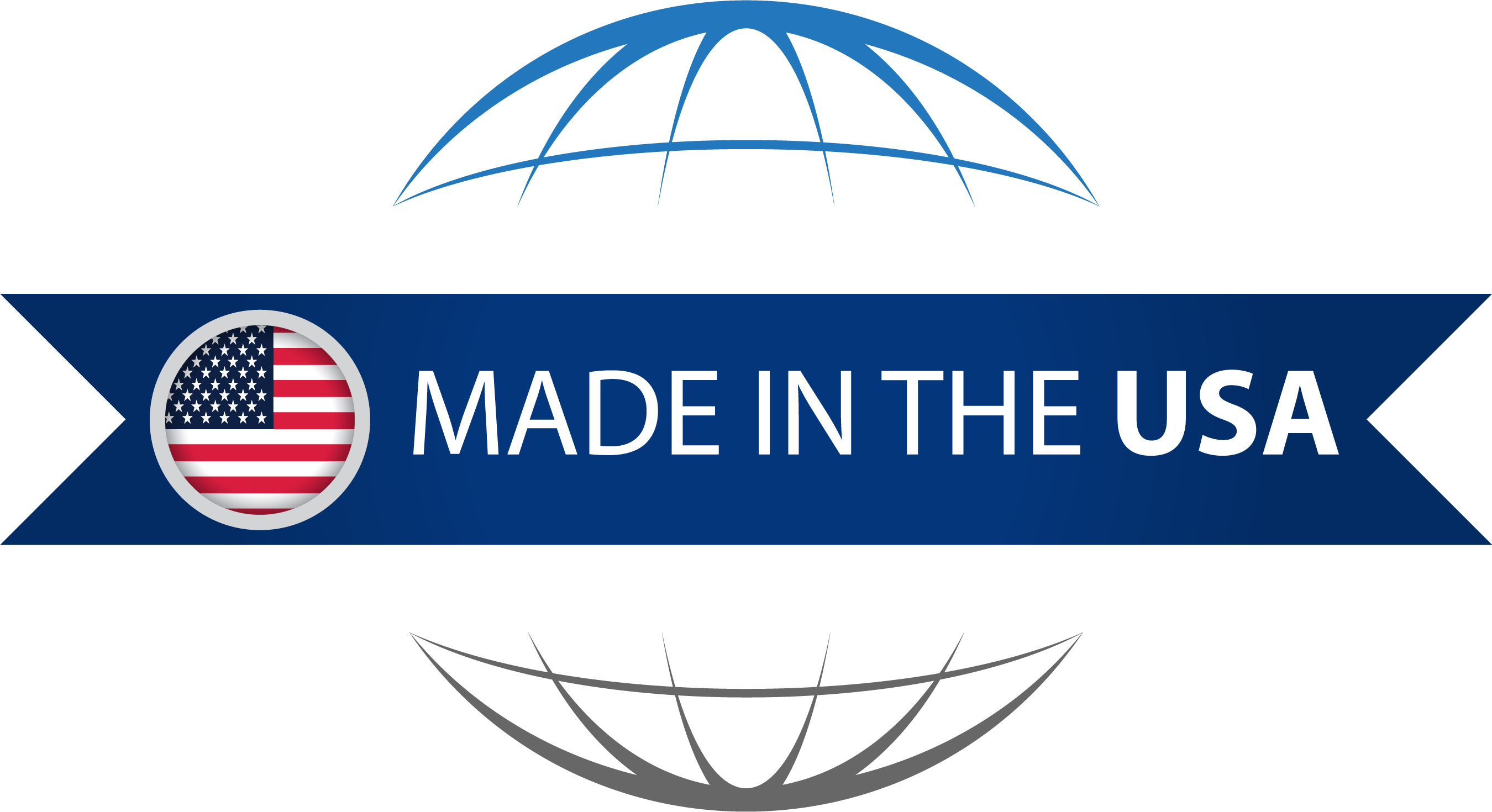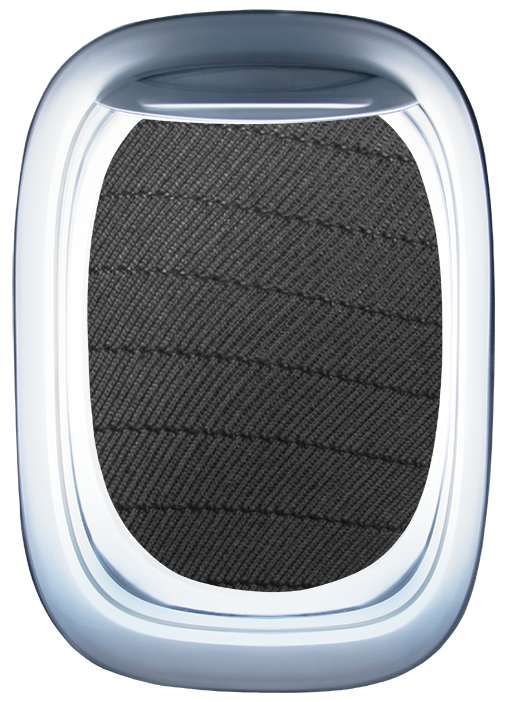 The sophisticated, designer patterned fabric is completely latex-free, and suitable for wear by both men and women. These socks offer a concealing, classic fit all while providing the benefits of medical grade compression.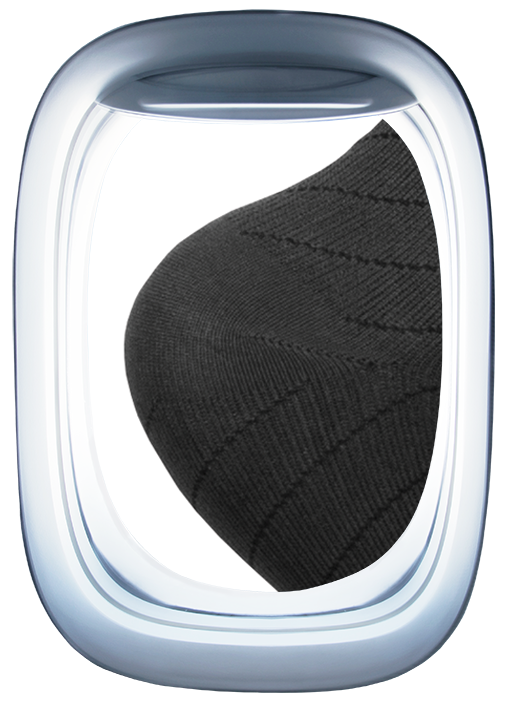 Knit-in, defined, reinforced heel pocket provides added durability and easy stocking orientation on the foot and leg for a proper, comfortable fit.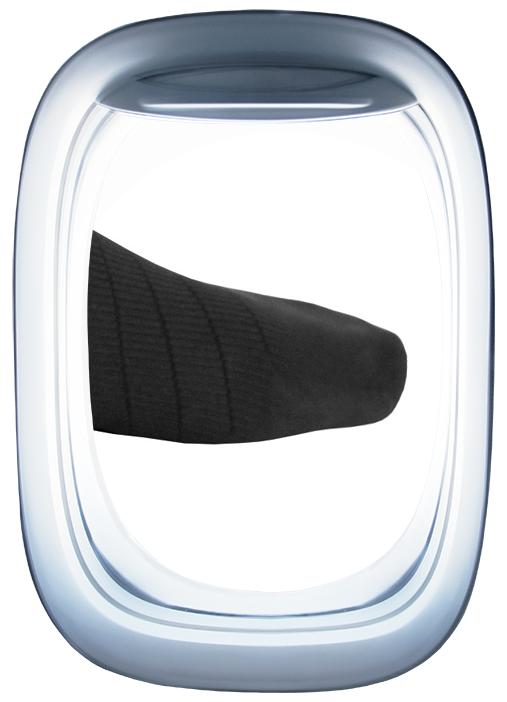 The roomy toe box features a "seamless", linked toe closure with no compression or rough seam to contact the wearers' toes, ensuring a comfortable and natural fit. The reinforced fabric protects against one of the most common areas prone to wear and tear.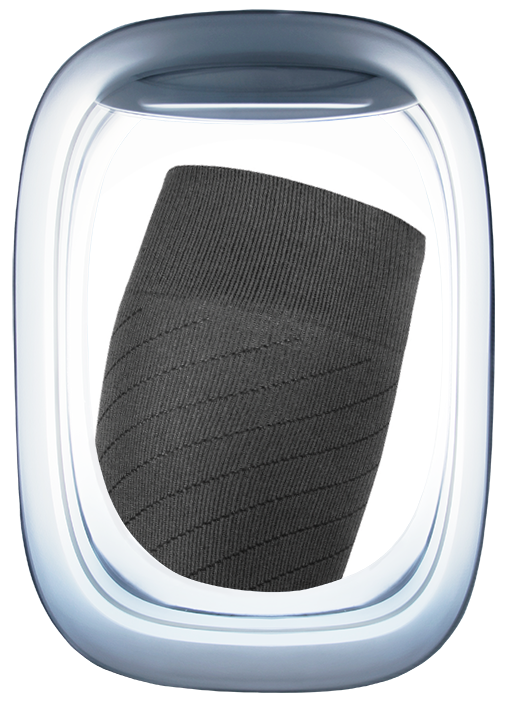 The soft non-compressive, stay-up top was carefully designed for wearing comfort. The flexible but snug fit ensures the stocking remains in place throughout the day without constricting the leg.

How to Measure for and Apply Truform Stockings
CIRCUMFERENCE

SHOE SIZE

ANKLE
CALF
US MEN'S
US WOMEN'S
UK
EURO
SMALL
7" - 8.25" (17.75 - 21 CM)
11" - 14" (28 - 35.5 CM)
4.5 - 7
6 - 8.5
3.5 - 6
36 - 40
MEDIUM
8.25" - 9.75" (21 - 24.75 CM)
13.5" -16" (34.25 - 40.75 CM)
7.5 - 10.5
9 - 11.5
6.5 - 9
40.5 - 43
LARGE
9.25" - 11" (23.5 - 28 CM)
15.5" - 18" (39.25 - 45.75 CM)
10.5 - 12
12 - 13.5
9.5 -11
43.5 - 45
X-LARGE
11" - 12.5" (28 - 31.75 CM)
17.5" - 20" (44.5 - 50 CM)
12.5 & OVER
14 & OVER
11.5 & OVER
45.5 & OVER
MEASUREMENT & APPLICATION INFORMATIONAL VIDEO
*Measurements should always be taken as soon as possible after waking when swelling is at its minimum


*Measure against bare skin

*The measuring system is based on having the foot flat against the floor and leg at a right angle to the foot

*Measurements must be taken by pulling the measuring tape snugly around the leg but without constricting the skin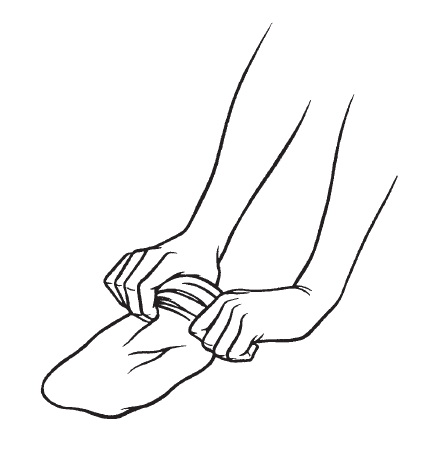 1. Pull stocking inside out to heel. With thumbs in and fingers out, grasp each side of heel, gently slide over foot until heel pocket is centered over heel.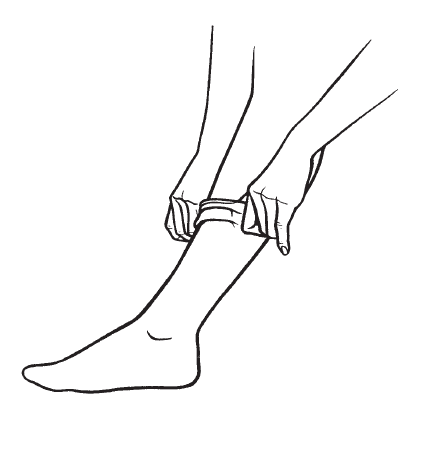 2. Begin turning right-side-out. Continue gradually pulling up the leg. For pantyhose: pull past thighs and over hips; adjust for comfort.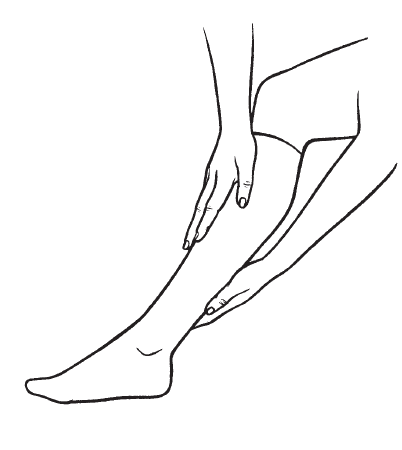 3. Remove folds or wrinkles, gently pulling upwards smoothing over leg. Fabric should be smooth and uniform. Do not fold top or waistband over.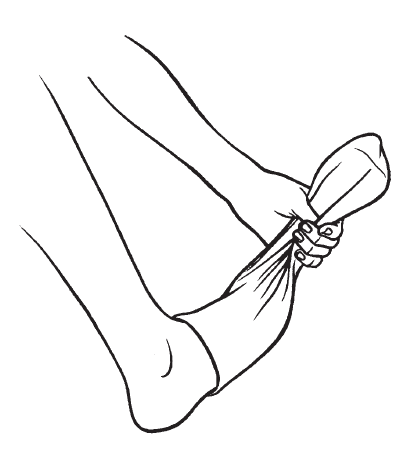 4. Remove by turning "inside out", gently pulling down to ankle. Insert finger, gently pull over ankle, heel and off the foot.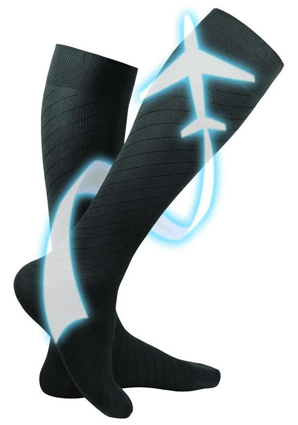 It is estimated that 1 million cases of Deep Vein Thrombosis (DVT) related to air travel occur in the US every year and that 100,000 of these cases result in death.
47% of registered deaths related to DVT and air travel were between the ages of 20 - 44.
Studies have shown that those who wear compression socks or stockings are dramatically less susceptible to DVT related to travel.
Wearing compression socks or stockings is the single most effective measure to prevent DVT related to travel.
COMPRESSION LEVEL
MEDICAL INDICATIONS
COMMON USAGE

EASE OF APPLICATION

8-15 mmHg
MILD
• Leg fatigue
• Slight ankle, leg and foot swelling
Persons sitting or standing for extended periods; great for preventative care
Easy
15-20 mmHg
MODERATE
• Minor varicosities
• Minor varicosities during pregnancy
• Tired legs
• Minor ankle, leg and foot swelling
• Post surgery
Travel, minor swelling, spider veins, pregnancy, minor varicose veins; first time wearers of therapeutic compression stockings
Easy; may require mild effort
18 mmHg
ANTI-EMBOLISM
• Help reduce the risk of venous
Thrombo-Embolic Disease
• Reclining or bed-confined convalescence
Persons with reduced mobility, unable to walk unaided, reclining or bed bound, early ambulation post-hospital stay
Easy; may require mild effort

20-30 mmHg




FIRM

• Tired, aching legs
• Moderate varicosities
• Moderate varicosities during pregnancy
• Moderate edema
• Post sclerotherapy and other surgery
• Help prevent recurrence of venous ulcerations
• Superficial thrombophlebitis
Moderate swelling or lymphedema, DVT (deep vein thrombosis), post-surgery, pregnancy, moderate varicose veins – prescription recommended (Seldom recommended for the diabetic patient.)
May require mild to moderate effort

30-40 mmHg




EXTRA-FIRM

• Severe varicosities
• Severe edema
• Lymphatic edema
• Helps prevent and manage venous ulcerations
• Chronic venous insufficiency
• Helps prevent post thrombotic syndrome
• Manage manifestations of PTS
• Orthostatic hypotension
• Post sclerotherapy
• Post surgery
Severe swelling or lymphedema, DVT (deep vein thrombosis), post-surgery, pregnancy, severe varicose veins – not recommended for use without a physician recommendation (Very seldom recommended for the diabetic patient.)
May require moderate to challenging effort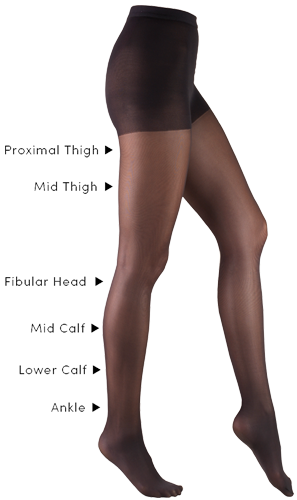 Truform's 6 Points of Compression
Truform measures support values at precise locations along the length of the stocking - 4 points for below knee, 6 points for thigh length and pantyhose styles. These measurements help insure that the compression or support knit in to the stocking is distributed properly along the length of the leg – greatest at the ankle, reducing upwards toward the heart.
Multiple measurements guarantee that all Truform legwear styles are comfortable to wear, and provide the proper amount of elastic compression therapy, in all the right places. Graduated compression stockings, when properly sized and fit, are designed to help improve circulation, which in turn, will help soothe tired, heavy legs, reduce swelling, and relieve varicose veins.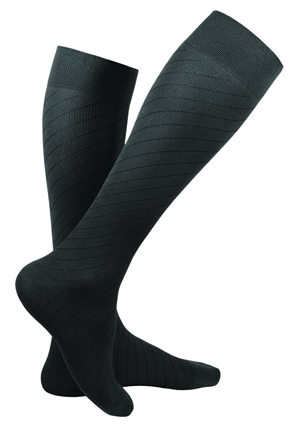 Wash gently with mild soap or detergent in lukewarm or cold water. Do not wring or twist. Rinse until water is clear. Roll in a towel to remove excess moisture. Dry flat away from heat and sunlight.